WATER DAMAGE REMEDIATION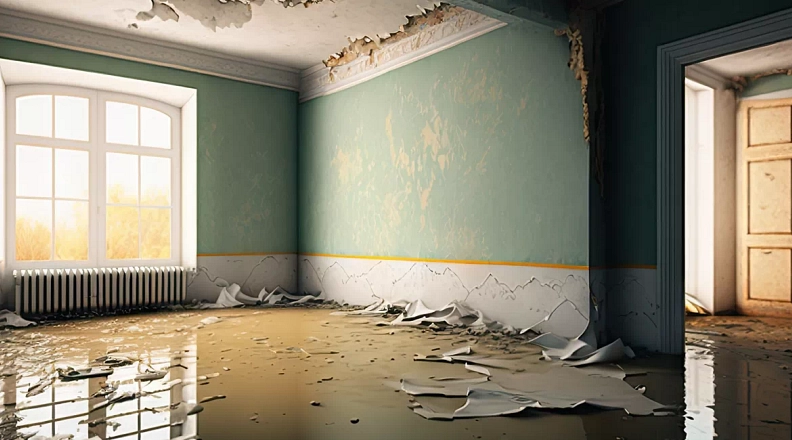 Sooner or later, everyone faces water damage cleanup and the way you handle your situation can make or break your business. It is our job to make sure your business is back up and running in as little downtime as possible. Water damage can wreak havoc on your property, causing structural damage, mold growth, not to mention destroying your personal belongings. NDS offers expert solutions for burst pipes, storms, and leaky roofs or unforeseen plumbing issues.
Water damage remediation is the the process of mitigating, repairing, and restoring property that has been compromised by water damage. The goal is to minimize the damage, prevent further deterioration, and restore the property back to its original condition.
Water Damage Remediation Process:
Assessment: A specialized water damage remediation team will come out to assess the degree of the water damage you have, identify the source of the water intrusion, and evaluate the impacted area or areas involved in the clean-up.
Removal: Removing any standing water should always be the first step taken and will help prevent additional property damage and the onset of potentially dangerous mold growth. Water damage specialized teams will then extract water from floors, carpet, drywall, and ceilings.

Pro Tip: Take any necessary steps to remove as much of the standing water as quickly as possible. This will make it easier for a smoother water damage restoration process to be successful and more efficient later on. There are lots of ways to remove standing water, such as the use of buckets, mops, swabbing with towels or rags, using large commercial fans and dehumidifiers. Make sure you open windows, if possible, to allow air circulation that will pull moisture out through evaporation or the use of simply throwing towels on top of puddles to absorb any excess water.
Dehumidification: Moisture in the areas of impact is dried thoroughly using dehumidifiers and drying tools to prevent mold growth and further structural damage to your affected area or areas.

Cleanup: Your damaged materials or potentially hazardous debris will then be removed from the property by your team of experts. An example of one of the most common forms of hazardous materials you may encounter might be insulation or drywall that has been saturated with stagnant water for more than 48 hours, which can be harmful to humans. The professional water damage remediation experts you choose should have junk removal services and specialize in debris disposal, or complete demolition and rebuilds.

Restoration: Water damage remediation requires the expertise of trained professionals like NDS who understand the complexities of water damage and have the necessary equipment and skills to effectively restore the property with as little downtime as possible. Your damaged structures (flooring, walls, etc.) are repaired or replaced to their pre-damage condition.
Benefits of Water Damage Remediation:
So, why should you seek a company for water damage remediation and what are the benefits of using a service like this to you as the property owner facing water damage issues? Let's get into it.
Minimize Property Damage: When it comes to water damage, acting quickly can save you time and money in the damages that you incur. When water damage is quickly assessed and you can implement mitigation measures, you not only minimize the extent of damage, you reduce the likelihood of secondary problems, like mold or structural issues.
Protects Health and Safety: Your damaged materials are potentially hazardous. It's nothing to mess around with and an effective water damage remediation service includes thorough drying, disinfection, and sanitization to ensure a safe and healthy environment.
Reduces Costs: The sooner you react to your situation, the better. By mitigating water damage quickly, you can prevent the need for extensive repairs or replacements.

Streamline Insurance Claims: If your property has water damage insurance coverage, water damage remediation services can help streamline the insurance claims process making it easier for you get costs covered. Trust the NDS water damage mitigation experts to provide extensive documentation, evidence, and detailed reports of the damage to help for a smooth process of your insurance claim.

Does Homeowners Insurance Cover Water Damage Remediation?
Insurance coverage for water damage can vary depending on the policy holder's insurance policy. A standard homeowners' insurance policy typically provide coverage for accidental water damage caused by pipe bursts, leaks, or appliance water issues.

Also typical, it is important to note that homeowner's insurance typically does not cover water damage resulting from floods or leaks that occur over time due to negligence of proper maintenance. You would need a special flood insurance policy and it is usually required for specific geographic locations when it comes to water damage coverage.

To understand your coverage for water damage remediation under your homeowner's insurance, we advise you to review your insurance policy documents or contact your property insurance agent.

Why Should You Choose NDS Water Damage Remediation?

Celebrating over 50 years of combined service excellence, the NDS Companies are about people serving people. Our longevity is a testament to our commitment in doing what it takes to help our clients succeed and most importantly…protect what they've worked hard for. From Business Continuity Planning, Disaster Recovery and best-of-breed Technology Services, NDS is Your Resource, Your Advocate & Your Partner.
NDS professionals are on call 24/7 to respond to our client's immediate needs affecting commercial and multi-family properties, schools, airports, water treatment plants and other governmental facilities.
NDS has a proven track record that has been tested time and again under the most extreme set of circumstances. In an era whereby anyone can be anything they claim online… check out our client's success stories to see if NDS would bring value to your organization. Contact NDS for more detailed information regarding our Water Damage Remediation Process.

Water damage remediation offers peace of mind, saves time and money, and helps protect the health and safety of your property.

Don't Let Water Damage Ruin Your Property. Call the NDS Expert Water Damage Remediation Team Today.